[ad_1]

Clad in white shirts and carrying bouquets, children across Russia flocked back to school Friday, where the Kremlin's narratives about the war in Ukraine and its confrontation with the West were taking an even more prominent spot than before.
Students are expected each week to listen to Russia's national anthem and watch the country's tricolor flag being raised. There's a weekly subject loosely translated as "Conversations about Important Things," which was introduced last year with the goal of boosting patriotism.
A new high school history textbook has a chapter on the annexation of the Crimean Peninsula and the "special military operation" — the Kremlin's euphemism for the war, and some basic military training is included in a course on self-defense and first aid.
RUSSIA FORGOES INVESTIGATION INTO PRIGOZHIN CRASH UNDER INTERNATIONAL RULES: REPORT 
President Vladimir Putin even got involved, personally meeting Friday with 30 school students from different regions and describing Russians as "an invincible nation." The Kremlin called it "an open lesson" as part of the "Conversations About Important Things" program of studies.
"School … is a powerful mechanism for raising a person subordinate to the state," said Nikolay Petrov, visiting researcher at the German Institute for International and Security Affairs. "For a while the school was outside the active attention of the state. Today, it's all coming back."
The Kremlin became preoccupied with what was on the minds of young people several years ago, when teenagers and students flocked to unauthorized protests organized by now-imprisoned opposition leader Alexei Navalny.
"The Kremlin suddenly began to pay a lot of attention to children and the youth," Petrov noted.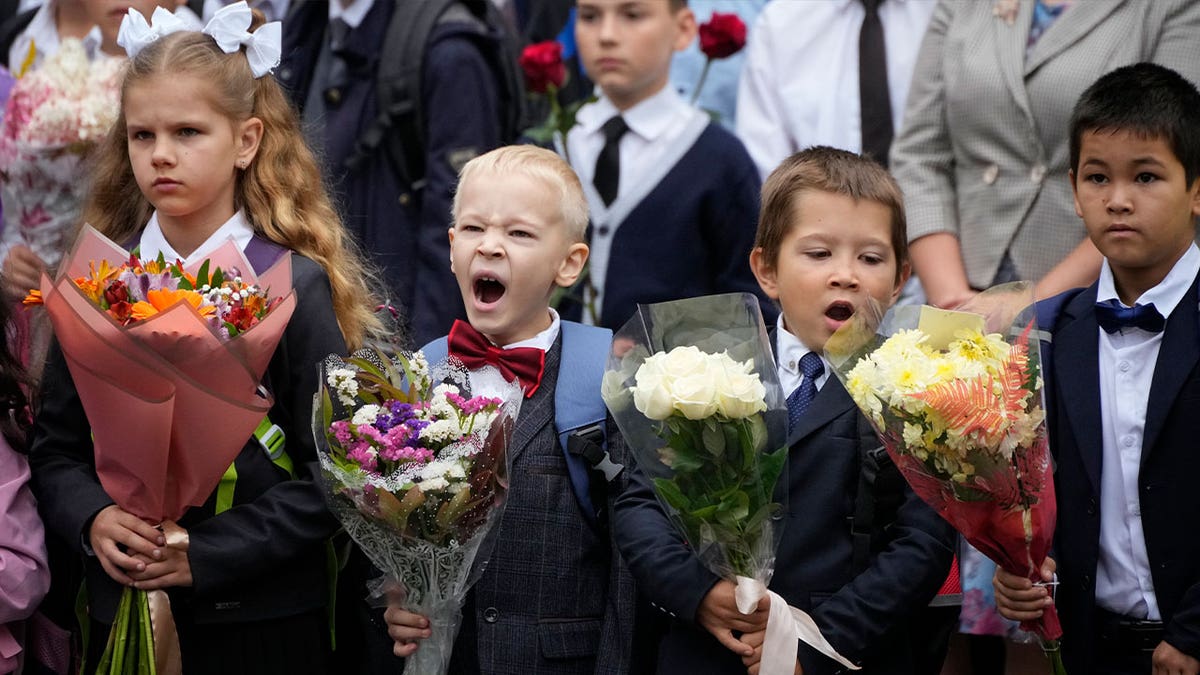 Putin started meeting with young people regularly, and authorities started investing in pushing its political narrative. The effort appeared to be driven by the realization that a whole generation of people who grew up with Putin as president "can think differently than the Kremlin wants them to," the analyst said.
There have been frequent media reports in recent years about teachers dressing down, shouting at or calling police on students who express support for the opposition or anti-government views.
The crackdown intensified after Moscow sent troops to Ukraine, and teachers were fired or forced to quit after refusing to hold sessions of the "Conversations About Important Things." Parents faced pressure from school administrators and authorities if their children skipped those lessons.
Earlier this year, authorities the town of Yefremov, south of Moscow, convicted and imprisoned a single father whose daughter drew an antiwar sketch at school.
The Education Ministry has unveiled an 11th grade history textbook, with a chapter covering Russia from 2014 to the present. It justifies the annexation of Crimea and the invasion of Ukraine, and paints the West as hostile toward Moscow. Questions about the fighting were featured in a sample of the final history exam that authorities recently released.
ZELENSKYY SAYS UKRAINE HAS DEVELOPED 400-MILE RANGE WEAPONS FOLLOWING STRIKE ON RUSSIAN AIRPORT
The practical course on self-defense and first aid now includes some basic military training, with students being taught about various weapons and lectures on information warfare and the dangers of extremist groups.
Some parents say they are rattled by these mandatory lessons.
"I've discovered that, to my horror, ideological lessons have become mandatory for my daughters and there is no chance of avoiding that," said Sergei, a Muscovite whose two daughters have just started high school. He and other parents spoke to The Associated Press on the condition that their last names not be revealed out of concerns for their safety.
"I now have to explain and ask the girls to be more careful with what they say in school in order to not inflict harm on themselves," he said.
Sergei said his daughters, whose hobby is ballroom dancing, are "all of a sudden asking questions about the flight range of missiles and drones."
"The mind of school students becomes militarized, history textbooks are being rewritten, mandatory ideology is being imposed," he said. "Russian schools rapidly turn back to the worst Soviet examples, when two histories and two truths existed."
A parent now has fewer opportunities to protect kids "from brainwashing," he added.
CLICK HERE TO GET THE FOX NEWS APP
Other Muscovites told AP they were lucky to have their children attend schools where teachers weren't following the directives to the letter, trying to stay away from politics.
"We got teachers who understand everything. They won't say out loud that they're against 'Conversations About Important Things,'" said Vladimir, whose daughter is in a Moscow school.
"We got a teacher who came up with her own content for the lesson and talked about, for example, theater, history of Moscow, other depoliticized topics without ideology," he said.
Anna, whose son attends middle school in Moscow, also said she is grateful to the school and its administrators for not taking "an aggressive stance" and not resorting to propaganda. She said the school has the weekly anthem ceremony and featured a lesson about Crimea last year, but little else, "so I'm not worried about it."
Vladimir believes that teachers who are well-educated, critical thinkers will be able to circumvent the requirements. If they are "crafty and flexible," he said, they will probably "formally implement what they're being told, but in reality quietly sabotage it."
[ad_2]

Source link