[ad_1]

Missouri football coach Eli Drinkwitz was among the coaches over the last few days who have seen the collegiate landscape changed dramatically after several Pac-12 schools bolted for new conferences.
But Drinkwitz wondered Saturday in an interview with the St. Louis Post-Dispatch if the officials making the decisions have thought about the student-athletes who will be affected the most by the shake-ups.
"Look, my question is, did we count the cost? I'm not talking about a financial cost. I'm talking about did we count the cost for the student-athletes involved in this decision? What cost is it to those student-athletes?" he told the outlet.
CLICK HERE FOR MORE SPORTS COVERAGE ON FOXNEWS.COM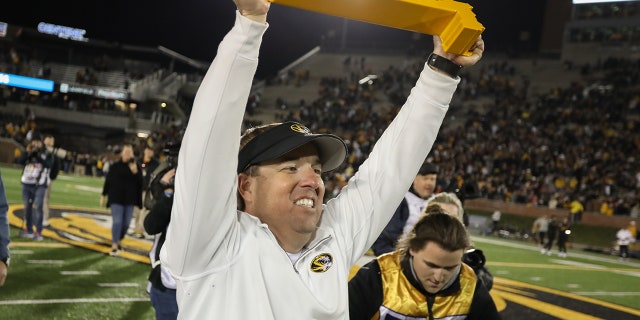 "We're talking about a football decision — they based it off football — but what about softball and baseball [teams] who have to travel cross-country? Do we ask about the cost of them? Do we know what the No. 1 indicator or symptom or cause of mental health is? It's lack of rest and sleep."
"Traveling in those baseball/softball games, those people, they travel commercial, and they get done playing at 4 [p.m.] They got to go to the airport, they come back, it's 3 or 4 in the morning. They got to go to class. I mean, did we ask any of them? Are we going to look back … ?"
Drinkwitz took the Tigers job after one season at Appalachian State. He became the head coach at Missouri in 2020 and led the team to a 5-5 record. The Tigers have gone 6-7 in each of the last two seasons.
He continued to question about whether officials thought about the student-athlete when Oregon and Washington announced their move to the Big Ten Conference and when Arizona, Arizona State and Utah decided to go to the Big 12 Conference. He compared it to how NIL and the transfer portal are treated.
"Because then we're asking them to go out on their own to get NIL," he added. "We didn't say we're going to revenue share. We're not saying they're getting a piece of it. So, that's the thing that's bothering me right now in this whole situation is we keep trying to limit what the student-athlete can do, but then we act on our own. And everybody's got their own reasons. And I'm not questioning those. I'm saying as a collective group have we asked ourselves what's it going to cost the student-athletes?"
DEION SANDERS REACTS TO CONFERENCE REALIGNMENT IN COLLEGE ATHLETICS: 'ALL THIS IS ABOUT MONEY'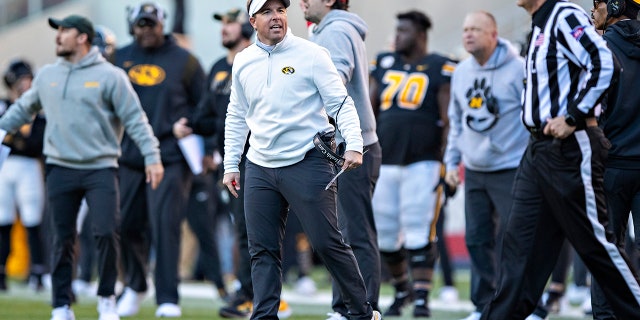 Drinkwitz pointed to some college athletes explaining why they decided to choose the schools they're at – some so they could play close to come for their family to see them play.
"Man, I love the game. But every game that I coach, I look up in the stands and find my family. I make sure they can be there. Because that's what I'm doing this for. You're talking about volleyball, baseball, softball, track, all those other sports, man," he told the Post-Dispatch. "They don't get they're not fortunate to travel like the way we do [in] football all the time. Football will be fine. Still, did we count the cost of the collateral damage for everybody else? I don't know, only time will tell. But that is my biggest [thought] looking [at] this 24 hours after. I don't think we did."
Washington State football coach Jake Dickert also wondered how much external factors played into the move – specifically TV money.
"Not a single player has asked me one time about it. It hasn't," he said Thursday. "It's one of those things where we have to control what we can control. It's amazing to me. The old question, 'How long would it take TV money to destroy college football?' Maybe we're here. … To think even remotely, five years ago, the Pac-12 would be in this position, it's unthinkable to think that we're here today."
"And to think that local rivalries are at risk and fans driving four hours to watch their team play in a road game, and rivalries is at risk, to me is unbelievable. I know our place at the table, but at the end of the day, [the] Pac-12 football and Pac-12 brand, if we stay together, is really strong and we'll have a strong future. I firmly believe in that."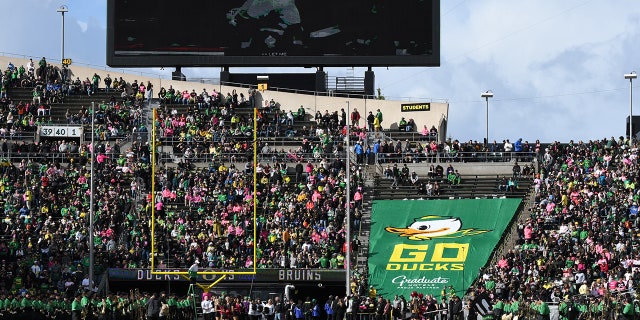 CLICK HERE TO GET THE FOX NEWS APP
Beyond this school year, the Pac-12 is down to Washington State, Stanford, California and Oregon State.
The Associated Press contributed to this report.
[ad_2]

Source link