[ad_1]

Guatemala's prosecutor for electoral crimes has asked the Supreme Court of Justice to strip five magistrates of the country's top electoral authority of their immunity so they can be investigated on fraud allegations made by the loser of the Aug. 20 presidential election.
It is the latest example of elections that observers declared to be free and fair being dragged into the courts, even as President-elect Bernardo Arévalo begins the official transition with outgoing President Alejandro Giammattei.
The National Unity of Hope party of former first lady Sandra Torres filed a fraud complaint after the election. The party's lawyer Carlos López said 164 precinct tallies duplicated votes. The party wants the magistrates of the Supreme Electoral Tribunal investigated for allegedly not carrying out their duties.
GUATEMALAN PRESIDENT GIAMMATTEI CALLS FOR PEACEFUL TRANSITION OF POWER TO LEFTIST SUCCESSOR
Later Tuesday, the Supreme Electoral Tribunal gave Arévalo and his running mate Karin Herrera the credentials formally making them president-elect and vice president-elect.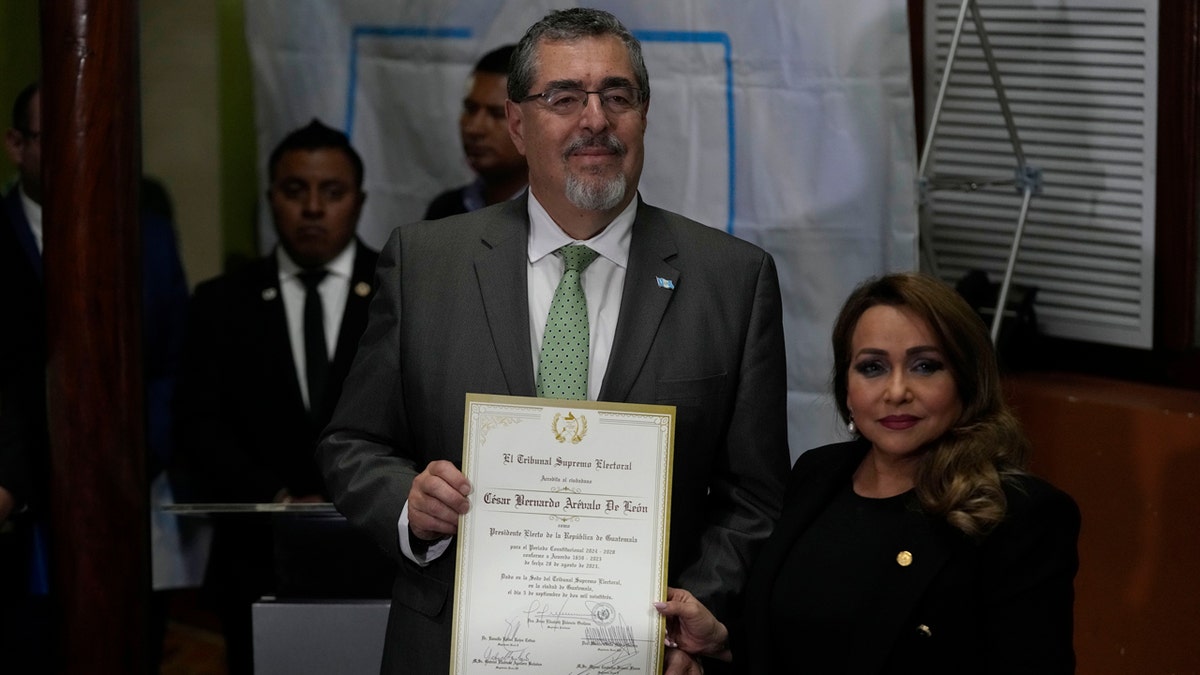 "During recent weeks we have been subjected to an exhaustive analysis between the validation of the electoral process and the challenges that still remain," said the tribunal's President Irma Palencia. She called on people to respect the rule of law, separation of powers and civil rights of all Guatemalans.
Arévalo praised the magistrates as a bulwark against attempts to disrupt the election and a "central defense of the country's democratic values."
GUATEMALA'S PRESIDENTIAL ELECTION TAKES DRASTIC TURN AS UNEXPECTED WINNER IS CERTIFIED, PROMPTING LEGAL FIGHTS
"The people already decided, the people already voted and the people won," said Herrera. "That is what has to be respected."
On Monday, Arévalo and Giammattei had their first transition meeting with Organization of American States Secretary General Luis Almagro present. Giammattei made his most direct comments since the election, saying "Dr. Arévalo will be the next president for the Seed party that won the elections."
Arévalo previously had accused forces in Giammattei's government of attempting a coup d'etat to keep him from taking power. The leader of the Organization of American States' electoral observation mission had said legal efforts since the election appeared to be aimed at keeping Arévalo from assuming the presidency.
CLICK HERE TO GET THE FOX NEWS APP
Over the weekend, the Supreme Electoral Tribunal blocked the suspension of Arévalo's Seed Movement party, which had come at the request of prosecutors. They allege that there was wrongdoing in the collection of the required signatures years earlier to register the party, something Arévalo himself had reported to authorities before the election.
[ad_2]

Source link