[ad_1]

Atlanta Braves star outfielder Ronald Acuña Jr. was confronted by a pair of fans during Monday's game against the Colorado Rockies at Coors Field. 
Acuña was knocked to the ground at one point during the bizarre confrontation, prompting him to feel a "little scared." 
Acuña said he believed the fans wanted to take a picture with him.
"I was a little scared at first," Acuña, who is in the running for National League MVP, said through an interpreter. "I think the fans were out there and asking for pictures."
CLICK HERE FOR MORE SPORTS COVERAGE ON FOXNEWS.COM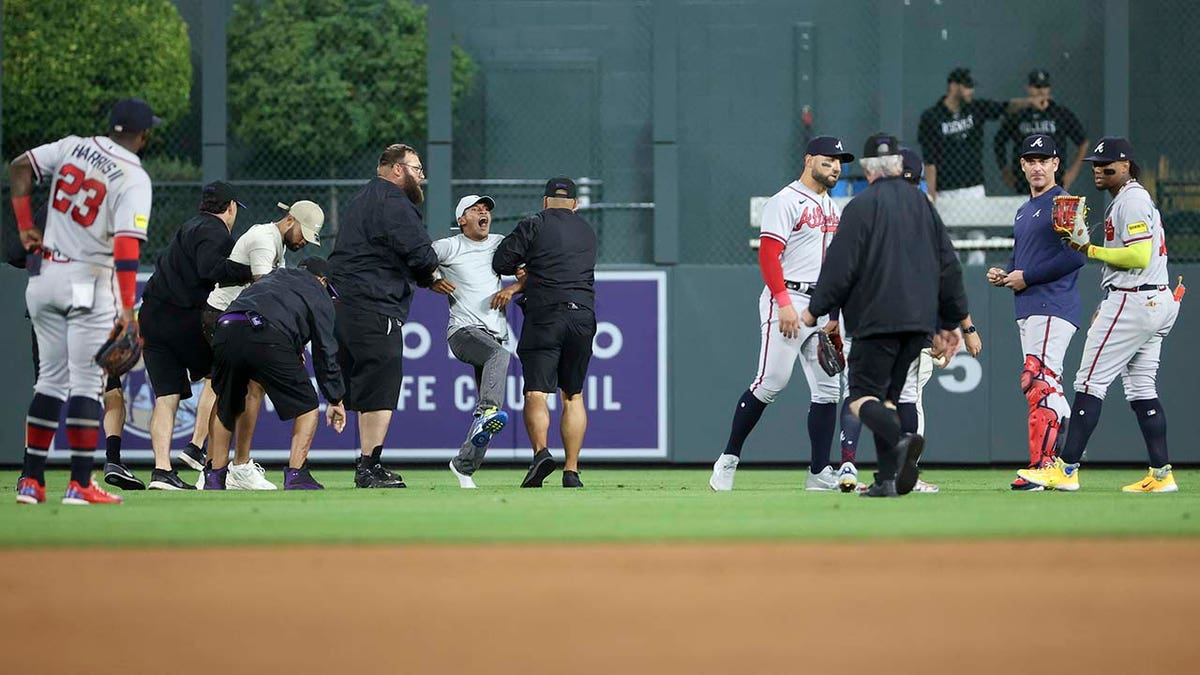 The 25-year-old, on pace for the first 30-60 (30 home runs and 60 stolen bases) season in MLB history, added that everything ended up being OK.
"I really couldn't say anything because, at that point, security was already there. And we were already kind of tangled up. But security was able to get there, and everything's OK. We're all OK, and I hope they're OK."
METS FANS SHOWER RANGERS' MAX SCHERZER WITH BOOS IN FIRST RETURN TO CITI FIELD SINCE DEADLINE TRADE
The incident happened during the seventh inning stretch when two fans made their way onto the field and eventually made contact with Acuña.
Videos posted to social media Monday night showed one of the unidentified fans embracing Acuña and appearing to try to take a picture with the four-time All-Star as a security guard attempted to pull the fan away.
More guards later arrived as a fan gripped onto Acuña despite security personnel grabbing the fan by his legs and arm. At one point, another fan began rushing the field and making his way toward the Braves superstar. But that fan was quickly body-slammed to the turf by security.
Acuña appeared to make it out of the ordeal uninjured and remained in the game for the final two innings.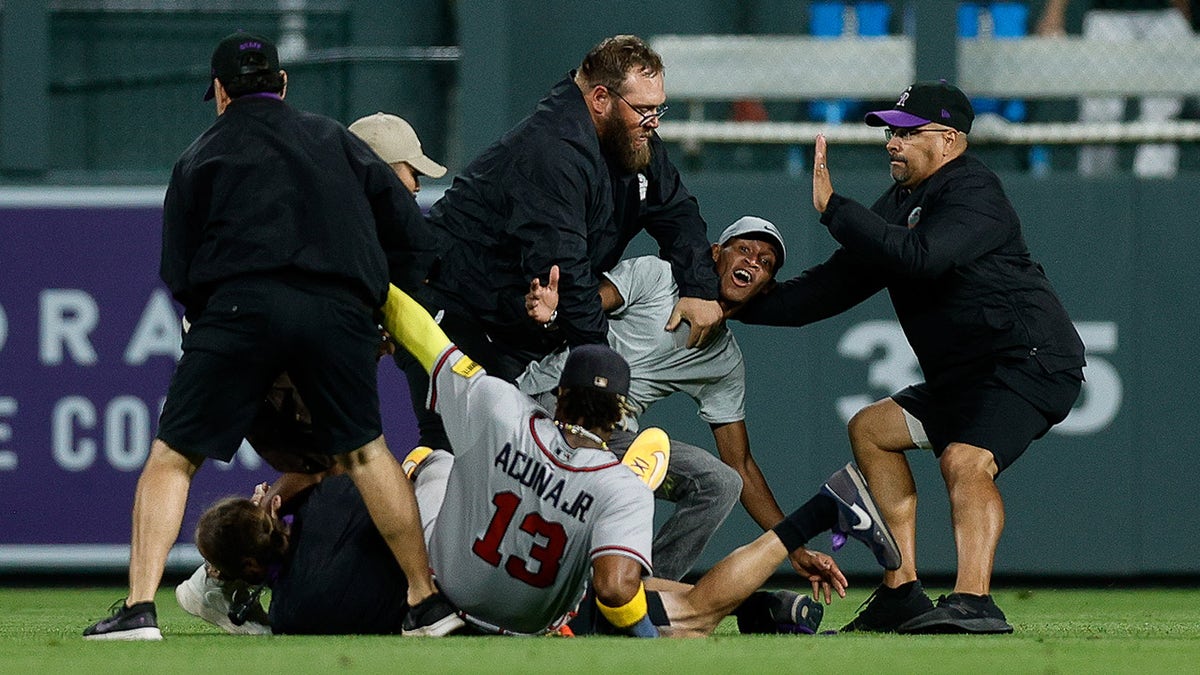 Braves manager Brian Snitker was away from the dugout at the time of the incident. He said he did not see the incident, but described it as a "scary situation."
"You don't want to see that happen, I know that," Snitker said via The Atlanta Journal-Constitution. "You don't know what they will do when they get out there. It's a scary situation."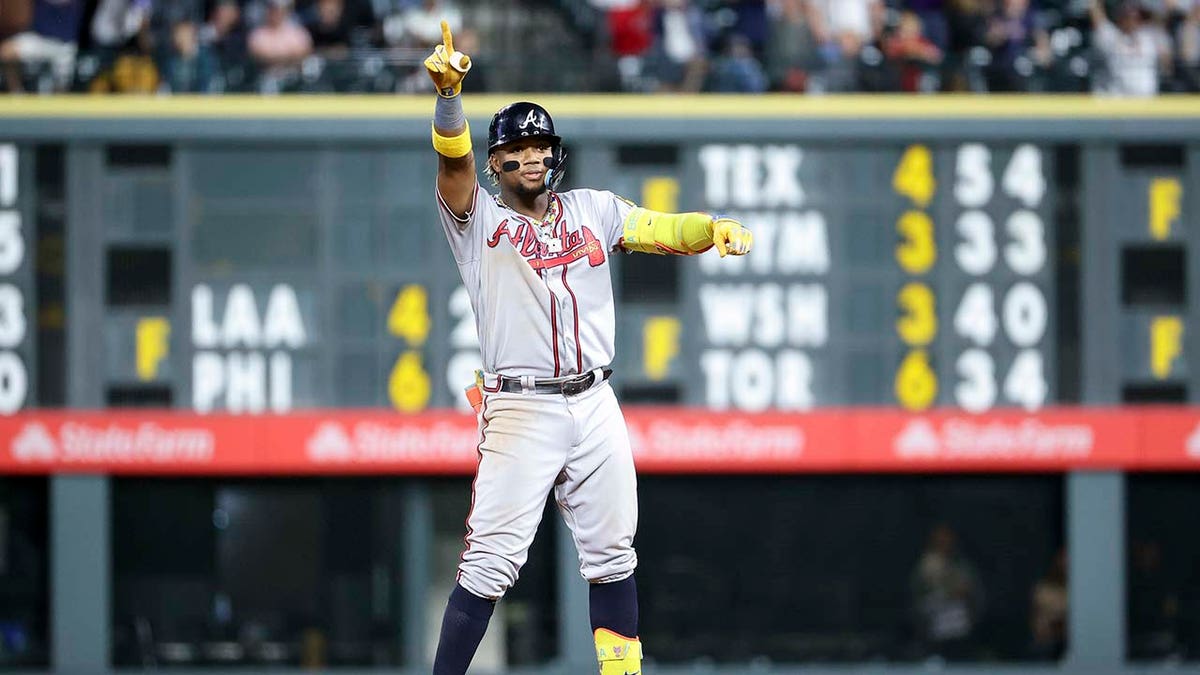 The Braves cruised to a 14-4 win, improving on their major league-best record. Atlanta sits at 85-45 on the season, but the team seemed somewhat rattled by seeing Acuña hit the ground.
"I don't think they had any ill intentions. I think that was pretty evident early on," Braves outfielder Kevin Pillar said. "Still, I mean, we have these rules and regulations in place. We're supposed to feel safe on the field. Thankfully, they weren't there to do any harm."
CLICK HERE TO GET THE FOX NEWS APP
The Braves play the Rockies in the second game of a three-game series Tuesday night at Coors Field.
Fox News' Scott Thompson contributed to this report.
[ad_2]

Source link