[ad_1]

The 2023 Women's World Cup is in full swing, and these daily files give you the latest reporting from around the tournament as well as betting lines, what-to-watch-for information and best reads. Check in with ESPN throughout the tournament as we bring you the latest from Australia and New Zealand.
---
The lead: Old rivalry, new sport as England to face Australia
SYDNEY — Australia will face England at Stadium Australia on Wednesday in the 2023 World Cup semifinals after the European champions came from behind to beat Colombia 2-1 and book a place against the Matildas, who earlier Saturday won a penalty shootout against France.
Leicy Santos gave Colombia the lead close to half-time, only for Lauren Hemp to equalise in the sixth minute of added time right before the break. England striker Alessia Russo, who had so many questions asked of her during the tournament as her struggle for goals embodied those of her team as a whole, then struck midway through the second half with a clinical finish that ultimately decided the tie.
And so, for the first time, one of the biggest international sporting rivalries will have a match in a competitive football fixture. And the stakes are about almost as high as they could be, with a place in a World Cup final on the line.
– Women's World Cup: Landing page | Bracket | Schedule | News
In the context of the rivalry as a whole, it's a game on a scale rarely matched. The Anglo-Australian struggle is one that has been defined by meetings on the cricket pitch or the rugby field, on the track or with a racquet, or with stick or oar in hand. The rivalry is mostly contested in sports that are popular in Britain and its former colonies, but where global reach is otherwise limited. On Wednesday, though, they will meet in the world's biggest and most popular sport, with the eyes of the world watching on.
For Australia, there can be no sweeter opponent to vanquish to reach the final of a home World Cup than England, to be the upstart that beats them at the game they invented. And for England, there's the chance to deny the Aussies this, to forever tar the happy memories the home fans will have of hosting this with the tune of "Sweet Caroline" ringing in their ears.
The rivalry between Australia and England is one defined by paradox. On the one hand, it is an amicable affair between two nations with deep bonds of language, history and culture; two friends on the global stage, engaging in spirited competition in the arena before wounds are healed over banter and beers off it. They are two sports-obsessed nations who know the importance of not just victory, but what earning victory in the right way brings.
Yet at the same time, it is a feud that is deeply antagonistic and characterised by hostile collision, where that same familiarity that brings congenial competition also breeds the most vicious form of contempt. The United Kingdom's flag resides in the top corner of Australia's flag and King Charles III is its head of state — Sam Kerr even marched with the Australian flag at his coronation.
The two nations have met in a major sporting final before — in the 2003 Rugby Union World Cup, when England beat Australia with the last kick of the game in Sydney — while the latest instalment of Test cricket's biggest rivalry, The Ashes, recently concluded with Australia leaving England with a 2-2 draw in the series and the little urn still in their possession. Now, on the football field, Australia have another chance to beat England at their own game. — Joey Lynch
Lynch: No sweeter win for Australia than beating England
Joey Lynch looks ahead to a rivalry clash in the World Cup semifinals with hosts Australia set to face England.
---
Sights and sounds
Australia beat France in epic shootout
BRISBANE, Australia — The 2023 World Cup will have one of its host nations in the semifinals after Australia survived a nerve-shredding penalty shootout against France to win their quarterfinal clash.
Lang Park was a yellow sea of home support as the Matildas prepared for their quarterfinal. But, to the dismay of the majority of the 49,461-strong crowd, it was Les Bleues who started stronger and saw a handful of early chances go begging.
The best chance for Australia came late in the first half when Hayley Raso chased down a long ball, causing enough panic for Emily van Egmond to slip it back into the danger area. With goalkeeper Pauline Peyraud-Magnin out of the picture, Mary Fowler aimed for what she though was an open goal, only to be denied but a sublime flying block from Élisa De Almeida.
The match finally pulled in favour of the hosts with Sam Kerr's second-half introduction. With their captain on the pitch, Australia found their urgency in attack and saw their own flurry of chances created but not taken.
Still scoreless after 90 minutes with the nerves settling over the stadium, the match moved into extra time. Wendie Renard's header at a corner was disallowed for her foul on Cailtin Foord before Courtnee Vine, fresh off of the bench, sent an effort the wrong side of the post as time ticked down to the inevitable with the hosts hanging on through a late French charge.
After the two sides were inseparable in 120 minutes of play, it was no surprise to see them remain locked in the penalty shootout with each goal, save and miss cancelled out.
Having been brought on right at the end of extra time to face Australia's penalties, France's third-choice goalkeeper Solène Durand proved her worth by making two saves as well as going the right way for a further five penalties she faced.
But it was Mackenzie Arnold who was the hero on the day, even after spurning the chance to win the shootout when her own spot kick hit the post. Arnold denied Selma Bacha, Eve Périsset and Kenza Dali twice, coming up trumps to deny the veteran a second time after a VAR intervention for the Matildas goalkeeper stepping off her line. After France's Viki Becho hit the frame of the goal, Vine stepped up to convert the 20th penalty of the shootout and send the home crowd into delirium.
Australia can enjoy making history by reaching a World Cup semifinal for the first time, but they'll be praying their finishing comes back in time for that game. — Sophie Lawson
How 'resilient' Australia beat France on penalties for semifinal spot
Sophie Lawson recaps a dramatic quarterfinal between Australia and France as the co-hosts advance to the Women's World Cup semifinals.
Colombia's deep run comes to an end
SYDNEY — England were asked questions during their 2-1 win over Colombia. They were asked questions when Colombia's Leicy Santos sent a sublime chip over the head of goalkeeper Mary Earps in the 44th minute, putting them into a deficit for the first time all tournament. They were asked questions by a physical and determined Las Cafeteras outfit, who refused to back down against the European champions and played with desire and purpose.
They were asked where the creativity and goals would come from without the services of Lauren James, serving the first match of a two-game ban after her red card against Nigeria. And they were asked questions by a hostile crowd dominated by yellow shirts, who rose as one every time the South American team drove forward and greeted the Lionesses with boos and jeers whenever they saw an extended period of possession. And, importantly for Sarina Wiegman's side, they were able to answer them all.
Thanks to a scrambling effort from Lauren Hemp six minutes into first-half stoppage time and an effort from Alessia Russo just past the hour mark, England became the first side at this World Cup to overturn a deficit and advance in the knockout stages, setting up a meeting with Australia at the same venue Wednesday with a spot in the final on the line.
The last side from the Americas remaining in the competition, Colombia answered back themselves in the final half-hour and gave it everything, throwing wave after wave forward in an effort to keep their tournament alive. They were good all evening, and on the balance of play they gave just as good as they got, but it was two very soft errors that cost them. They had found a 97th-minute winner to beat Germany in the group stage and that level of belief was evident as they kept coming until the final whistle. It was heart-in-mouth stuff.
But England did enough. They were good enough. They battled for it and came out on top, showing not just the ability to get things done but the resolve to do it. — Joey Lynch
Sweden's advance into the World Cup semifinals 'came down to millimetres'
Sophie Lawson reacts to Sweden's 2-1 win vs. Japan to get into the semifinals and compares it to round-of-16 game against USWNT.
Sweden's show of respect
AUCKLAND, New Zealand — When the final whistle went at Eden Park on Friday, confirming Sweden's progress into the semifinals at the expense of Japan, the scenes on the pitch were starker than we've seen so far this tournament.
Of course, teams who've been knocked out have been upset, but the sheer outpouring of emotion from the young Japan squad was something we've rarely seen from Nadeshiko. Disconsolate on the pitch, most in blue walked through the mixed zone, fulfilling their postmatch media duty with tears still in their eyes.
It was there, in the underbelly of the stadium that Sweden's Sofia Jakobsson, mid-interview, stopped to turn to Japan's Jun Endo next to her and offered the 23-year-old some words of comfort, lauding the strength and quality of the team her had just eliminated.
Although the words may or may not have been of immediate comfort to the attacker, the defeat far too raw, it was another show of respect and regard for the opposition which have been familiar sights at this tournament. — Sophie Lawson
Wenger to speak at women's football convention
WELLINGTON, New Zealand — Arsene Wenger will lead the speakers at FIFA's two-day Women's Football Convention in Sydney next week, with the former Arsenal manager, now FIFA's Chief of Global Football Development, set to give a keynote address on the future of the game.
Wenger has sparked controversy in his FIFA role by calling for men's World Cups to be held every two years within a radical plan to overhaul the football calendar. The 73-year-old is due to speak alongside Jill Ellis, the two-time World Cup winning coach with the USWNT, and Chelsea manager Emma Hayes. Former Arsenal and England forward Ian Wright is also slated to speak at the convention in a panel discussing the professionalisation of women's football.
The convention is only the second staging of the event, which involves each one of FIFA's member associations, and FIFA Secretary General Fatma Samoura says it is crucial to build on the momentum of World Cup 2023.
"We can already say with confidence that this tournament is a gamechanger for women's football," Samoura said. "The crowds, the atmosphere and the quality of football we have seen already has been exceptional. I look forward to reflecting on that success and taking another enormous step to building on it at the Second FIFA Women's Football Convention on the 18-19 August." — Mark Ogden
Amputee footballers shows their skills in Sydney
SYDNEY — Players from the World Amputee Football Federation (WAFF) and U.S. Amputee Football Federation were playing in Sydney this week on FIFA's Unity Pitch at Barangaroo on Sydney Harbour.
The pitch has travelled to each of the nine host cities and the players showcased their skills there alongside attending two of the round of 16 matches.
"Amputee soccer has given me a new outlook on my ability, not my disability," said LaQuinta Haynes, from Columbus, Ohio. "Playing football did offer me a lot of mental health too, because it gives me a way of looking at myself differently."
Amie Donathan, who was one of only two female players at the Amputee Football World Cup last year, said: "A lot of people that have amputations or limb differences think that they can't follow their dreams or do what they want to because they have this difference, but I think that amputee soccer gives that hope.
"I didn't know any amputee or anybody like me before I played amputee soccer. So, it has just given me that different family. We all have a connection that not everyone can have and we just understand each other in a different way. The physical health benefits are definitely off the charts. You get a lot of lower body or upper body, you have to have a lot of stamina and the mental health benefits are also great because a lot of these people, including me, before we had amputee soccer, you just sometimes get down on yourself."
There are more than 5,000 players participate as part of WAFF across 50 countries. Turkey are the reigning world champions after taking the the World Cup on home soil in Istanbul last year. — Tom Hamilton
World Cup brings big value to Australia
SYDNEY — The revenue of the World Cup for Australia and its regions so far has reached massive heights already, according to data gathered by financial platform Airwallex.
The value of the competition to Queensland's and Brisbane's tourism sector has been projected as more than AUS$50million but, in terms of overall spending the figure stands at an eye-watering AUS$7.6 billion nationally and $1.55bn alone for the Sunshine State. This is the amount spent on retail, hospitality and commercial by locals as well as travellers and visitors in relation to the World Cup.
The other states to have benefitted the most are New South Wales (AUS$2.98bn) and Victoria (AUS$2.3bn.)
FIFA estimates that 20% of the tickets for the 2023 Women's World Cup were sold to international fans, sparking a major influx of visitors and spending. — Julien Laurens
---
News of the day
Former USWNT star Sydney Leroux took a not-so-subtle jibe at Netherlands forward Lineth Beerensteyn following the Dutch team's quarterfinal loss to Spain on Friday. Why? It first started with Beerensteyn's blunt reaction earlier this week over the USWNT's shocking elimination — "From the start of the tournament, [the U.S.] had really big mouths and were already talking about the final." And then after Netherlands loss to Spain, Leroux kindly reminded Beerensteyn via a tweet: "One thing we've learned is wait to talk s— until after you're on the podium with a gold medal because now … you're bye too."
England star Alessia Russo said she has been getting advice from David Beckham on how to navigate the turbulent nature of World Cups. Russo is playing in her first World Cup and spent time with Beckham before the tournament when the former England captain interviewed her for a TV programme in the UK, and they have since kept in contact. "He has been one of my idols ever since I was a little girl," Russo said. "It is one of my biggest highlights off the pitch to sit and have a normal conversation with someone who you would watch on the world stage when you were a young girl. It was amazing. He was really nice. It was a pinch-me moment in terms of what women's sport nowadays has done."
---
Features of the day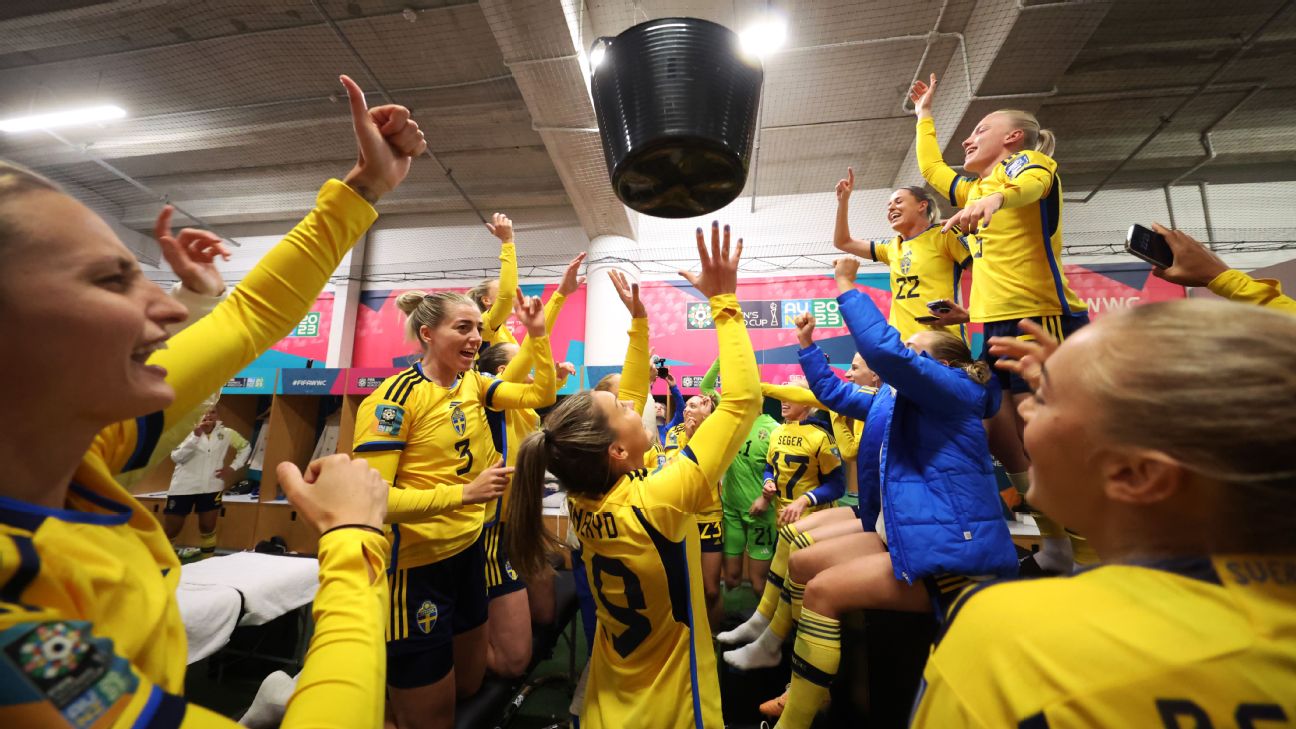 Sweden's tactics, spirit push them into World Cup semifinal
Sweden executed a perfect game plan to eliminate Japan and advance to the semifinals, but this team is as much about the off-field vibes as it is the on-field tactics.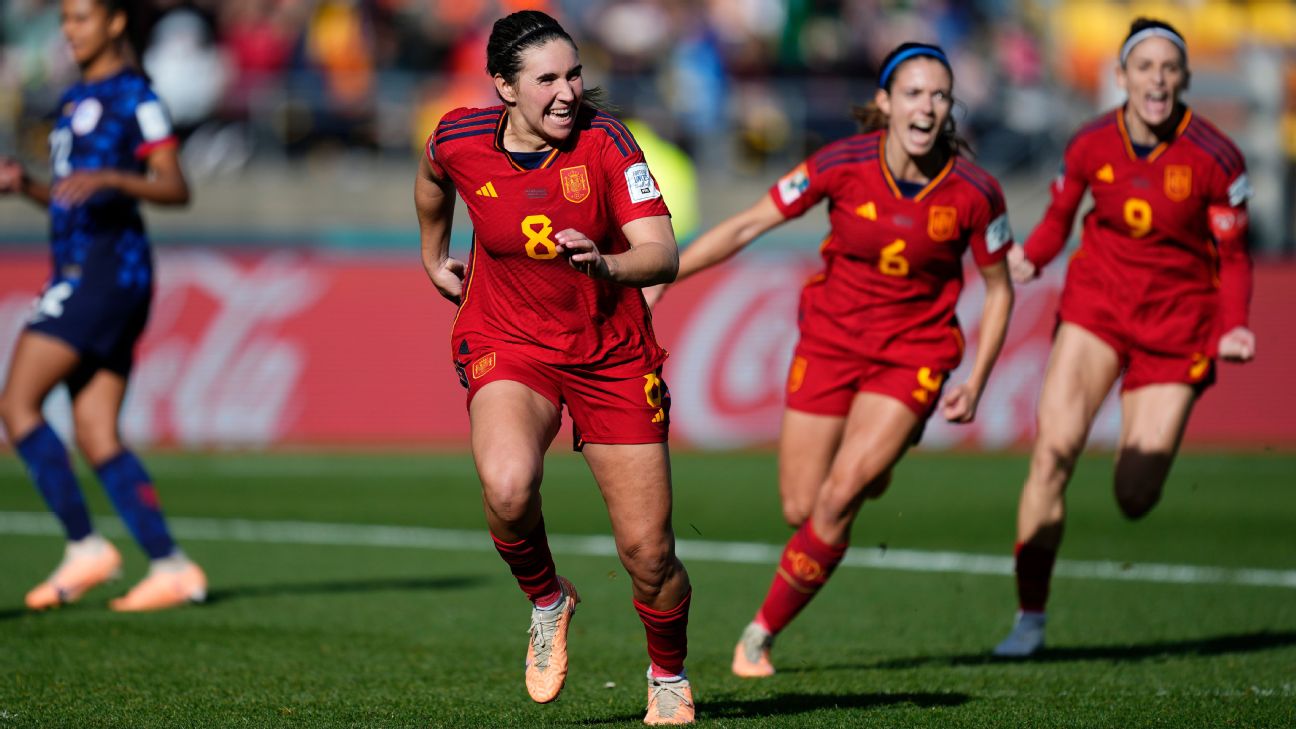 Spain, Vilda show resilience to seal World Cup progress
With a win over Netherlands, Spain are through to the World Cup semifinals for the first time and they had to overcome rumbles on and off the pitch.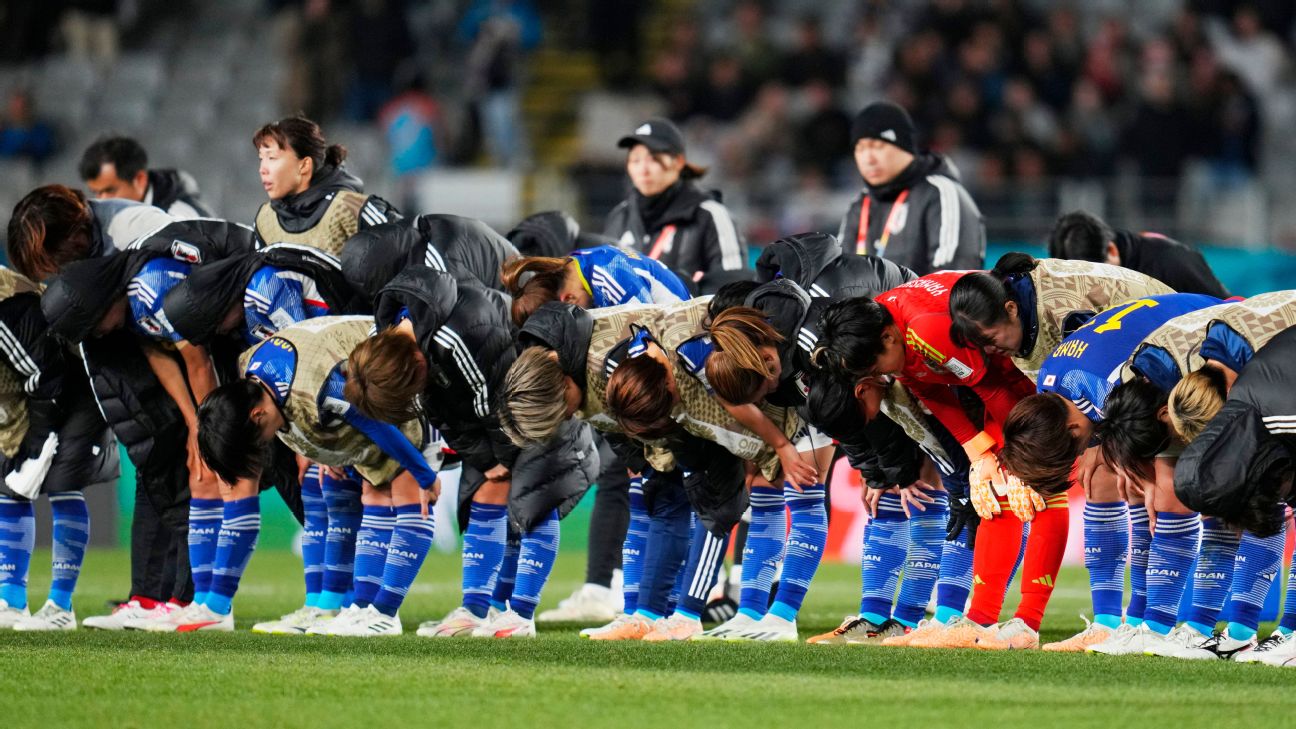 After a stellar showing, perhaps 2023 just was not Japan's time yet
For the first week, few could argue that Japan wasn't on a course for the final. But the dream run has ended in the quarterfinals and perhaps it just wasn't time yet.
---
And finally …
WELLINGTON, New Zealand — Just as Australia were preparing to kick off their quarterfinal against France in Brisbane, they were pulling down the World Cup banners and flags in Wellington, the capital city of co-host New Zealand.

Some would argue that the World Cup party never quite got going in New Zealand — it has certainly lacked the buzz and anticipation of Australia. But it was an odd sight to see one local official lowering the flags and World Cup paraphernalia outside Wellington Station, despite Auckland still scheduled to host the semifinal between Sweden and Spain on Tuesday.

Make no mistake, New Zealand is indisputably a rugby union country — you can't go far without seeing some reference to the All Blacks — but over 30,000 fans turned out to watch Spain beat the Netherlands in Wellington on Friday and the bars on the city's waterfront were noisy enough during the Sweden versus Japan game later in the day.

But the lowering of the World Cup flags said a lot about the impact of the tournament on this side of the Tasman Sea. New Zealand were knocked out at the group stage and the momentum enjoyed by Australia just hasn't been seen here. — Mark Ogden


[ad_2]

Source link