[ad_1]

Mass illegal crossings into Texas along the Rio Grande Valley sector continue to surge, as all four sectors are either overcapacity or are about to hit the maximum number of immigrants they can hold.
A U.S. Customs and Border Protection source told Fox News there are currently 19,400 migrants in Border Patrol custody, nationwide.
Overnight, mass crossings continued in the Rio Grande Valley, mostly consisting of family units.
At about 3 a.m. local time Thursday, a large group of several hundred migrants had crossed illegally near Fronton, Texas.
MIGRANTS DISRUPT COMMERCIAL OPERATIONS AT TEXAS BORDER PORT
The caravan had families with infants and children, along with unaccompanied minors.
More family units were seen about an hour later near Sullivan City, Texas, also predominantly containing families.
Fox News learned many of the families that are stopped along the Rio Grande Valley are released with future court dates.
VENEZUELAN MIGRANT ACCUSED OF RAPING WOMAN IN FRONT OF 3-YEAR-OLD IN UPSTATE NEW YORK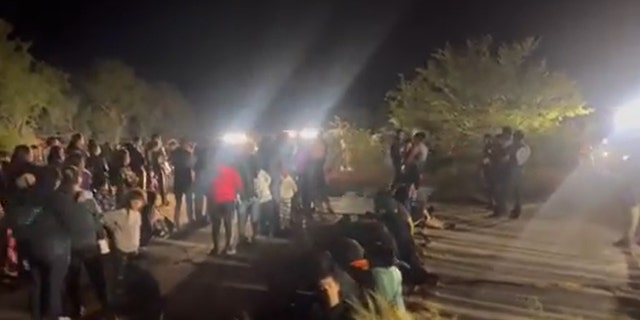 On Wednesday, CBP sources told Fox News 967 migrants were released with a Notice to Appear in the same sector.
Despite soaring temperatures along the U.S. southern border, illegal border crossings spiked during the month of July after following a two-year low the month before.
Another area seeing large groups traveling together is along the Arizona border.
CLICK HERE TO GET THE FOX NEWS 
A CBP spokesperson told Fox News Digital that they have increased personnel and transportation resources to increase encounters in the hot, scorching area, "where individuals have been callously sent by smuggling organizations to walk for miles, often with little or no water."
[ad_2]

Source link